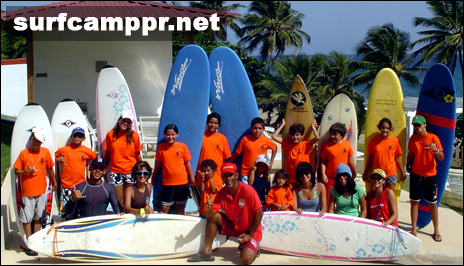 Warning…Your child or teen may not want to leave our Surf Camp in Guajataca, Puerto Rico at the end of the week!
Our Surf Camp is a unique summer option for boys and girls between the ages of 6 to 16 years of age to develop water skills and an appreciation for the environment.
This day camp (night lodging options offered separately) offers a phenomenal alternative for youngsters to express their individuality in a safe and protected environment within the confines of the Guajataca Beach Resort, under the constant supervision of our professional and experienced staff.
The multiplicity of natural resources and facilities of the North Shore of Puerto Rico is within our reach, and we tap into these with our intensive curriculum that includes
swimming instruction
Surfing sessions
Kayak trips in the scenic Guajataca river
Snorkeling excursions on the east side of Guajataca Beach
Marine Biology classes
Coastal flora and fauna of the NW coast
The proximity of our facilities to the Guajataca National Forest, the network of the Camuy Caves, and the legendary Black Tunnel trail helps provide our students with a unique opportunity to learn about our ecosystem up close and personal.
Our campers are welcome to join us for a one-week session…. or join us for 2 or more weeks.
We only accept a maximum of 16 students weekly; visit our site (click on the photo above) and register now to secure a spot at this exclusive opportunity at an incredible price.
Advertisement
This entry was posted on Wednesday, April 21st, 2010 at 10:18 am and is filed under
Puerto Rico
,
Surf Camps
. You can follow any responses to this entry through the
RSS 2.0
feed. You can leave a response, or
trackback
from your own site.
3 responses so far!
Its true, If you are a beginner surfer, you will need at least few lessons to learn the basics before going off on your own.
costa rica surf camp

The person who wants to make money online and is an affiliate of Sony or Panasonic can then have all the products that this company is and promote it as if they were their own, with the benefits that the member does not have to worry about inventory, service customer, shipping, or storage of any product.
Como-ganar-dinero-por-internet

[...] Crossley Chuck Daigh Yannick Dalmas Derek Daly Christian Danner This entry was posted in Uncategorized. Bookmark the permalink. ← 10 [...]
Leave a Comment