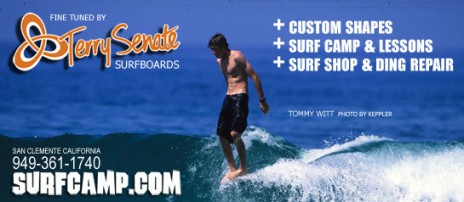 One of the last true core surf shops in Southern California. Come by and get a great deal on a surfboard or drop your board off for quick and professional ding repair. We also offer surf lessons year round.
Terry Senate Surfboards
208-B Calle De Los Molinos
San Clemente, CA 92672
(949) 361-1740
Advertisement
This entry was posted on Saturday, July 18th, 2009 at 12:08 am and is filed under
Orange County
,
Surf Shops
. You can follow any responses to this entry through the
RSS 2.0
feed. You can leave a response, or
trackback
from your own site.
5 responses so far!
Nobody does surf camps better than Terry Senate! Groundswell is an experience you'll never forget. Keep it up Terry!

Been surfig Terry Senate surfboards for 20 years all over the world, when you ride heavy waves in remote places your life is on the line, I trust in my boards, knowing I have a sick stick under me gives me the confidence to charge harder and enjoy the ride!!! thx Terry

Thanks Terry for spending your time talking to the young surfers about great boards, helping people, and why they should avoid drugs and alcohol. You are a good Scout!

hey bro ,guess what? Just fished one out of a dumpster. I was so mad I went to the house to find out what happened, why they were trowing it away. Come to find out house was sold to a couple that have no idea about surf. So, Guess what ITS MINE THANK YOU SURF GOD THANK YOU

Great true surf shop. We went surfing really early at "San O" and they met us at there shop so my friend could rent a board because his was being repaired. Keep up the killer work guys!
Leave a Comment